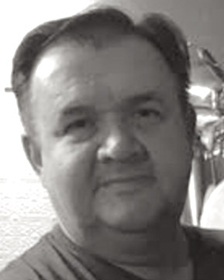 July 2017
It is with profound sadness that we announce the passing of our dear friend and colleague Nicolas Perna, on July 26, 2017.

Born in Tufino, Italy, he emigrated with his family to Canada in 1966, settling in Thunder Bay, Ontario. Nic attended Lakehead University, graduating with a degree in Psychology and a minor in Philosophy.

He went on to study and graduate from the Respiratory Therapy program in Winnipeg, returning to Thunder Bay, to work at McKellar, Port Arthur General, and St. Joseph's Hospitals.

Nic married LeeAnn Rogerson while working at St. Josephs and together they welcomed their children, Alexandra and Matthew, whom he both adored.
Continuing his passion for knowledge, Nic attended the Michener Institute in Toronto, graduating from the Cardiovascular Perfusion Program. He went on to work at St. Michaels in Toronto, and then accepted a position at the Hamilton General Hospital where he worked until his passing.

Nic had many hidden talents, most of which were selftaught, exemplifying his sheer determination, perseverance, and hard work. An excellent woodworker, he could craft anything from a beautiful armoire to stunning deck furniture for a pool. He rebuilt and restored Camaro's and Corvettes in his younger years. You can find Nic's name on one of the bricks at the National Corvette Museum in Bowling Green, Kentucky.

While living in Grimsby, Ontario with his family, Nic found his new passion; restoring old Honda motorcycles, and making them custom, one-of-a-kind bikes. They became works of art and were displayed on calendars as well as showcased in the magazine Pipeburn, featuring his custom Honda CB750, the NVP Cycles logo adorning the gas tank.

Nic will be sadly missed by his wife Lee Ann, his children Alexandra and Matthew, and his grandson Ethan, his parents Maddalena and Michele, his sisters Maria and Phyllis, family in Italy and Canada, as well as numerous friends and colleagues. Those of us who were fortunate enough to call Nic a friend will miss his wit, kindness and generous spirit.