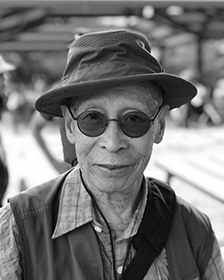 January 2022
For those of us who have had the pleasure to have shared professional paths and/or to have worked with Jaime Villamater over past years we have, indeed, been the recipient of his friendly, caring and gentle demeanour. Jaime was a unique pioneer in our profession for over three decades while practicing in his professional role as the first clinical perfusionist within the cardiac operating room of Toronto's The Hospital for Sick Children. While enjoying his many years of earned retirement and after a long and distinguished career, Jaime passed away peacefully last week, with his immediate family by his side.

Jaime moved to Toronto in the early 1960's from his native Philippines with the aim of continuing his nursing career within Toronto's The Hospital for Sick Children. Shortly thereafter, happen chance would see Jaime's direct involvement in the much earlier era of infant open heart surgery with such notable surgeons as the pioneering cardiac surgeon, Dr. Bill Mustard, then Chief of Cardiovascular Surgery as well as his working with other distinguished cardiac surgeons, such as Dr. Bill Williams. Jaime's professional career would blossom over the next thirty or so years wherein his inquisitive nature and friendly demeanour would always be freely shared with his many colleagues as well as his perfusion students. As such, Jaime's caring and sharing personality came through as a thoughtful and attentive teacher throughout his entire distinguished career! He always put his tiny heart patients first — Jamie never sought the lime light nor did he seek singular recognition given his many years of acquired clinical knowledge. Through his innovative work and humble demeanour the light would find him! Jaime was known for his work related inventions in that Jaime had the unique ability to turn theory into clinical reality and practice such as in his fabricating his own "myocardial cooling blanket" which was successfully introduced and used clinically to keep his tiny patient's hearts protected during routine open heart surgery. Jaime's initial clinical experience would witness his introduction and initial clinical use of the bubble oxygenator followed by his introduction of future generation of membrane oxygenator design such as the Kolobow SciMed coil membrane oxygenator which he had used clinically within a wide range of both infant and paediatric open heart patients. On a personal note, I would call Jaime from the IWK Hospital in Halifax with my many questions as to his published technique/description of "CO2 flushing and vacuum priming technique." Jaime's intuitive nature defined the saying "necessity is the mother of invention." In that reality, Jaime was like few others in our profession!

Jaime leaves behind his clinical perfusionist colleagues, many of whom were his former students. They would carry forewords, within their own careers, the Art of Perfusion by way of Jaime dedicated clinical teaching and shared experiences! Clinical lessons having been learned and eagerly taught to those who would care to listen — and many of us did listen!

So Jaime, the collective "WE thank you" for your being exactly who you were — a professional who used your acquired clinical experiences to the benefit of your many tiny heart patients as well as to the perfusion students and colleagues who had the good fortune to find themselves under your singular brand of humble and professional guidance. You also gave freely of your knowledge to the many surgical residents, who once trained, would call upon you when they had initially set up their clinical practices throughout North America. You leave behind a legacy of caring, your learned lessons of clinical significance - your many friendships and the love and respect of your colleagues! Rest in piece OUR friend for in those you have touched and taught, the journey continues...

Jim MacDonald
London, ON


To the best of our ability:
First Row (L) to (R)
Mindy Madonik, Kathy Deemar, Kathy Marrin, Colleen Gruenwald, Jaime Villamater, Jenny McDonough, Janet Ditmore

Second Row (L) to (R)
Mary Scholz, Teraze McDougall, Mindy Blackwell, Karen Irving, Mark Henderson, Nancy Pretty, Dionne Noel, Suzanne Allaire, Alison Holt, Barbara Greenspoon

Back Row (L) to (R)
Andrea Corrigan, Peter Allen, Celeste Foreman, Andrew Cleland, Jim MacDonald, Eldon Sharpe, Paul Pike, Steve Juhasz

Please note we are unable to name the two women in the back row. If you know who they are, please contact the national office.